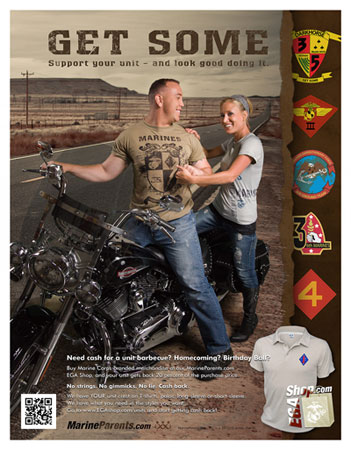 Attention Marine Corps unit leaders, FROs, and XOs:
Need cash for a unit barbecue? Homecoming? Birthday Ball?
Buy Marine Corps Branded merchandise at our MarineParents.com EGA Shop, and your unit gets back 20 percent of the purchase price.
No strings. No gimmicks. No lie. Cash back.
You've found the place that's going to give money back to your unit -- 20% -- every time you (and anyone you send to your link!) buy items from the Marine Parents' EGA Shop. To make sure a specific unit receives the money, set up a unit affiliate account through the EGA Shop. Once you do, everything you buy through that link counts toward the 20% back.
We'll cut a quarterly check to your unit; you and your Marines decide how to spend the support money.

To get your unit signed up, click the "continue" button below.
As per terms of the agreement, all units must have a contact person which can be verified prior to approval of the Unit Affiliate Account.