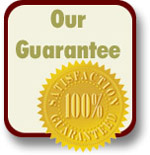 We want you to be 100% satisfied with the quality of the product you purchase from MarineParents.com. If for any reason you are not completely satisfied, let us know within 30 days of the shipping date and we'll work with you to make it right.
All returns must include a Return Authorization number (RA#). For additional information on returns and to obtain an RA#, please see our section of the website titled "Customer Service".
Warranties
All products are supplied with the manufacturer's standard warranty. No other warranties are express or implied. MarineParents.com, Inc. cannot be held liable for the performance of any manufacturer, product, or carrier.
Swords
Must be returned or exchanged with 14 days of invoice date. We inspect every sword before shipping, so if the item arrived damaged, please call us immediately at 1-888-881-8762 or via email store@marineparents.com. Laser etched swords are non-returnable unless the sword is defective. MarineParents.com, Inc. will exercise the right to repair or replace the sword.
Return Policy
Products may be returned for a refund or store credit within 30 days of the order being shipped. No product may be returned without first obtaining a Return Authorization number (RA#). Products returned without an RA# will be refused.

Click here to learn how to obtain an RA#.