Support Marine Diagnosed with Leukemia
Here at Marine Parents, one of our missions is to assist Marine families when tragedy strikes. Today, we need your help to raise $7,500 to support a Marine, Alexander, who was recently diagnosed with Acute Lymphoblastic Leukemia.
100% of your donation goes straight to Alexander's family's expenses. No administrative fees are withheld.
MarineParents.com, Inc. is an IRS-approved 501(c)(3) public charity and your donation is tax deductible as allowed by IRS tax law. Make your donation using our secure online interface and your credit card or debit card. We accept Mastercard, Visa, American Express and Discover.
---
Make Your Donation
Support Marine, Alexander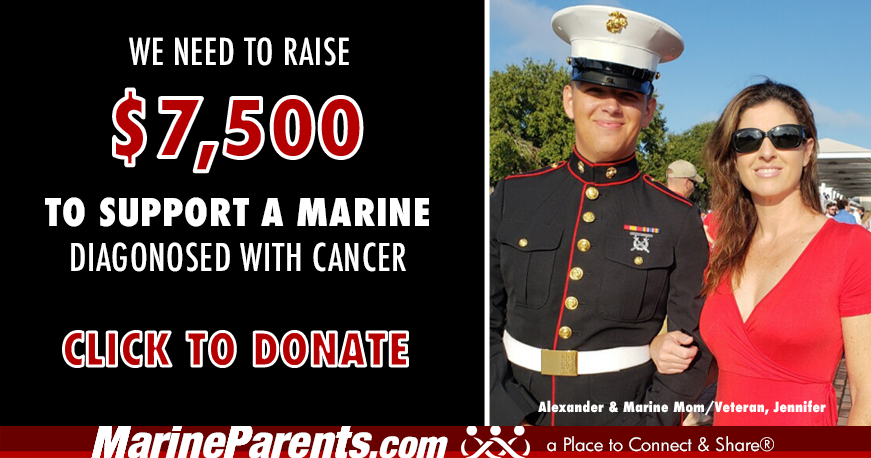 Alexander's mom, Jennifer, is a single mom and will have to leave her home and job temporarily to stay closer to her Marine in the hospital. Jennifer is a Marine Corps veteran herself and has three other children besides her Marine. Jennifer has also been a Marine Parents volunteer for over a year, supporting family members of recruits and Marines in our a Place to Connect and Share®.
Alexander graduated boot camp in January 2018 and was last stationed at Camp Lejeune. He started chemo on January 10th.
We would like to help Jennifer and her family transition over the next 30 days so she can be with Alexander during his treatment. We are covering expenses such as monthly bills, travel, and hotel to equal about $7,500.
We know that with your generosity and commitment to the well-being of the service members who sacrifice so much on our behalf, as well as their family members, we can reach our $7,500 goal.
As of 2:30PM CST 1/18/19, we have raised $7,968 and surpassed our $7,500 goal.