As of May 9th, we raised $12,375 towards this project with final expenses coming to $13,747.16. It's not too late for you to support this cause.
---
Extreme Restoration Marine Parents Style
The donation you're making today will help fund the Diggs Extreme Restoration Project. MarineParents.com needs your help raising $15,000 so we can restore the exterior of a 94-year old World War II Marine Combat Veteran's home. We have over 120 volunteers lined up to take on this work with a general contractor. This is an extreme restoration project that we'll power through in one day. You can be part of the success. Donate today.
MarineParents.com, Inc. is an IRS-approved 501(c)(3) public charity and your donation is tax deductible as allowed by IRS tax law. Make your donation using our secure online interface and your credit card or debit card. We accept Mastercard, Visa, American Express and Discover.
---
Make Your Donation
His Story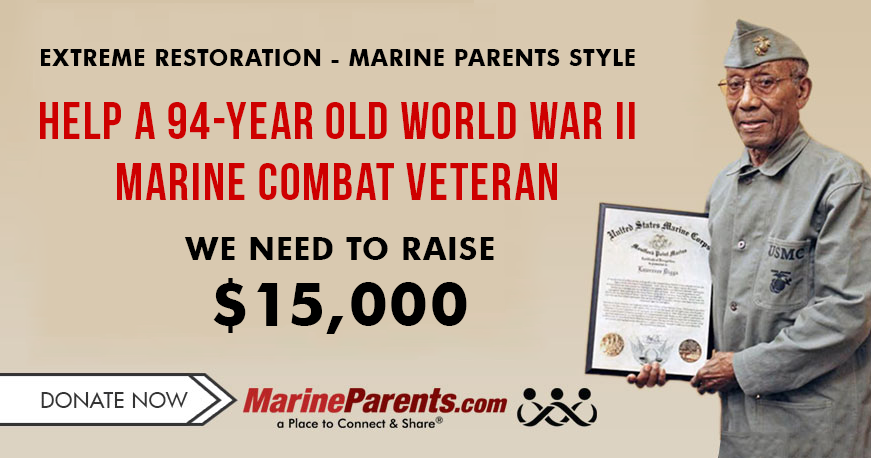 Everything is in place to get the extreme restoration done on May 7, except the funds. Our volunteers are on board. Materials are ordered. Port-a-Potties are scheduled to be delivered. Camera crew is set up. Donated food is arranged. Donated transportation to the worksite is arranged. Let's get this Extreme Restoration done!
MarineParents.com, Inc., was founded nationally 15 years ago on January 21, 2003 to provide support, information, and services to Marines and their family members, and create opportunities for the public to support our troops through the organization's outreach programs. Throughout our 15 years of service, we have called on you, the MarineParents.com family, to help us continue our mission and today we need your support again.
In order to fund this event, we need to raise $15,000 by Wednesday, April 25, 2018 at 5:00pm CST.
Cpl. Lawrence "Larry" Diggs. Mr. Diggs happens to live near the MarineParents.com corporate office in Columbia, MO and our staff has had the honor of meeting and working with him before. Born in Mississippi and raised in Chicago, Diggs was drafted into the military in May 1942 and was one of the first African Americans recruited by the Marine Corps. Diggs was one of nine kids and credits his upbringing with him being able to make it through boot camp. After finishing basic training, Diggs took part in jungle warfare and special weapons training in Guadalcanal. From there he was assigned to the 7th Ammunition Company attached to the 1st Marine Division and was shipped to the Pacific.