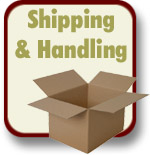 How are shipping and handling charges calculated?
Shipping and handling charges are based on the amount of your order with a minimum charge of $3.00. You choose the number of days in transit for your order. Please see rate chart below.

When will my order be shipped?
We begin processing your order the business day following the day you placed your order. Orders are typically packaged and ready to leave our building the same day or the following day after processing begins provided the order does not include items which specify additional time for production, engraving, or embroidery.
What does "Production up to 5-7 Days" mean?
Our production items are "print-on-demand" which can take up to 5-7 days to complete in our on-site production facility. These items are noted as 5-7 days in the product's description and begin with item numbers Uc- or Ua-. They include items with family affiliation selected, choices of designs, selection of recruit company or battalion, the addition of custom text, and other design-related options. Please note that our standard production processing is about three days; however for you purposes of calculating time for an order to arrive by a specific date, please allow the full 5-7 days. For more information, see notes on production items below the shipping chart.

How long will it take to receive my order after it ships?
You choose the number of days in transit for your order with shipping options during checkout. When calculating time, please note "days-in-transit" is for the actual time in transit from our facility to you; shipping time does not include time in production or for our staff to pick, pack, and prepare your purchases for shipping. Our standard shipping to residential areas is either USPS Priority Mail or FedEx Home Delivery with 3-4 days in transit. FedEx Home Delivery WILL DELIVER ON SATURDAY and does not deliver on Monday. You may also choose FedEx 2-Day and FedEx Next Day. Click here for zone chart. First class US Postal can take 6-10 business days. Custom embroidery, engraving and drop-shipped items can take up to two weeks to ship and are so noted.

When do I order shirts to wear to my recruit's graduation?
If you are ordering items with 5-7 day production time, we suggest ordering no later than three weeks prior to graduation. If the graduation date is on the 28th of the month, place your order before midnight central time on the 7th. If you are ordering ready to wear items, order 10 days before your departure date. You can choose FedEx 2-Day or FedEx Next Day to expedite your entire order.
Shipping Transit and Rate Chart

Order Total:
US Postal First Class
(6-10 Days)
FedEx Home Delivery or USPS Priority Mail
(3-4 Days)
FedEx 2-Day
FedEx Next Day

up to $5.00

$3.00

$7.95

$18.22

$37.88

5.01 to $10.00

$4.00

$7.95

$19.22

$38.88

$10.01-$15.00

$5.00

$7.95

$20.22

$39.88

$15.01-$20.00

$6.00

$8.95

$21.22

$40.88

$20.01-$25.00

$7.00

$8.95

$22.22

$41.88

$25.01-$35.00

$8.00

$8.95

$23.22

$42.88

$35.01-$50.00

$9.00

$9.95

$24.22

$43.88

$50.01-$75.00

$10.00

$10.95

$25.22

$44.88

$75.01-$100.00

$11.00

$11.95

$26.22

$45.88

$100.01-125.00

$12.00

$12.95

$27.22

$46.88

$125.01-150.00

$13.00

$13.95

$28.22

$47.88

$150.01-175.00

$14.00

$14.95

$29.22

$48.88

$175.01-200.00

$15.00

$15.95

$30.22

$49.88

$200.01-225.00

$16.00

$16.95

$31.22

$50.88

$225.01-250.00

$17.00

$17.95

$32.22

$51.88

$250.01-275.00

$18.00

$18.95

$33.22

$52.88

$275.01-300.00

$19.00

$19.95

$34.22

$53.88

$300.01-350.00

$20.00

$20.95

$35.22

$54.88

$350.01-399.99

$21.00

$21.95

$36.22

$55.88

$400.00 and up

$22.00

$22.95

$37.22

$56.88
Our Production Facility is proudly located in the U.S.A.
We're proud to say we not only produce our custom orders right here in the USA, our production facility is in the same building as the corporate headquarters of MarineParents.com in Columbia, Missouri. Production items will be shipped upon completion and are so noted. Most production items need an additional turn-around time of 5-7 business days. Production items include customized products and our original designs on T-shirts, mugs, flags, iPhone cases, mousepads, messenger bags, computer cases, magnets, key chains, etc. You may select expedited service for your production items when noted in the item description.

Engraving and Custom Name Tapes
Engraved items may take up to 2 weeks for processing and are so noted. Items are engraved in the USA. Custom name tapestake 7-10 days for processing.

*Rates are subject to change without notice. Rates are for the 48 contiguous US States and APO/FPO shipping only. Alaska, Hawaii and Puerto Rico incur additional charges as noted above. Except for APO/FPO addresses, shipping outside the U.S. will incur a minimum handling fee of $25 plus actual postage. To make arrangements to ship overseas, please contact us via email prior to placing your order. We reserve the right to refuse shipping overseas.