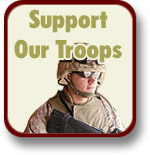 Support Our Troops! Shop at the MarineParents.com, Inc. corporate store! All proceeds (100%) go to support MarineParents.com and our outreach programs. MarineParents.com, Inc. is an IRS approved 501(c)(3) public charity.
We are not aware of any online company that sells Marine Corps gear, shirts, hats and memorabilia in which 100% of the proceeds go to support the Marines and their families. In fact, many of the leading stores, though they may be owned by former Military or Marines, are actually for-profit companies.
We want to thank you for making your purchases from an organization where your money will make a difference in the lives of our Marines, Navy Corpsmen, and their families. Thank you for shopping with us!
To learn more about the organization and our outreach programs, click the program icons on the right, visit us online at www.MarineParents.com, or give us a call at the corporate office 573-303-5500.