Sponsor a Box of Literature for a Recruiter We Need to Raise $32,000 Marine Corps Recruiters use our MarineParents.com handouts and literature during presentations to poolee families before their recruit ships to boot camp. In 2021, we shipped 281 kits. This year the requests from recruiters have more than doubled. As of October 24, 2022, we've sent 600 literature kits to recruiting stations. The orders are still coming in. We need your help with a donation. Please help new poolee and recruit parents to find the support of MarineParents.com by sponsoring boxes of matrices and handbooks for Recruiters.
a Place to Connect & Share® is a registered trademark of the United States Marine Corps. Used with permission.
As of 2:35 PM CST 9/23/2022, we have raised $15,464 of our $32,000 goal.
Select How You Can Help:
Choose how you can help today. One box of literature and matrices reaches 30 poolee families. SELECT ONE:

This is MarineParents.com secured donation interface with NO 3rd-party fees.
OR Donate with PayPal:
Check or Money Order:
MarineParents.com, Inc.
3208 LeMone Industrial Blvd, Ste. B
Columbia, MO 65201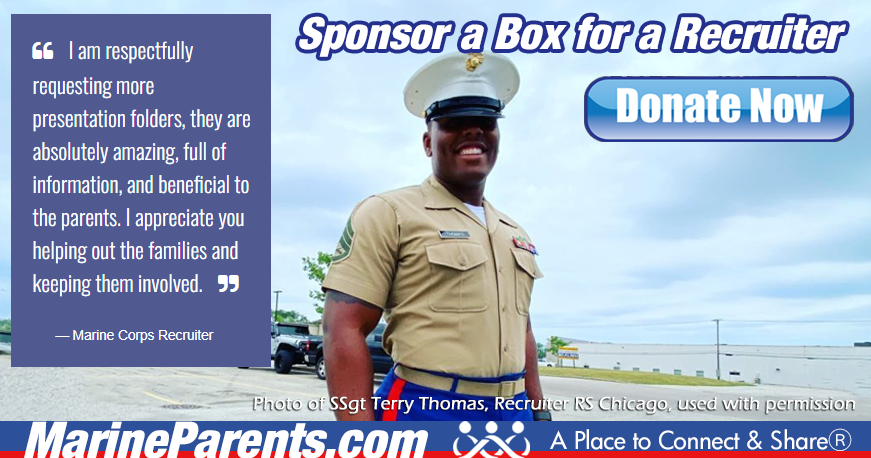 Help Promote Donations to MarineParents.com
Please encourage others to donate! Copy and paste the following URL to send to your friends and family:
https://marineparentsinc.com/kits.asp
If you are on Facebook, please use our Facebook Share button or paste the URL above.
Help by changing your profile image on social media. Right-click the image below to use for your social network profile image during the MarineParents.com SPONSOR A BOX fundraiser.
Copy and paste this hashtag and the link in your new profile image:
#SPONSOR_MarineParents
https://marineparents.com/kits.asp