Support Marine Veteran, Ryan, and His Wife, Kelsey
Here at Marine Parents, one of our missions is to assist Marine families when tragedy strikes. Today, we need your help to raise $6,500 for a Marine whose wife was in a car accident and is currently in the ICU over an hour away from their home with no prognosis at this time. Ryan has been staying at a hotel near the hospital. Ryan and Kelsey also have a two year old son. This family will have no income while Kelsey is in the hospital.
100% of your donation goes straight to Ryan and Kelsey's expenses. No administrative fees are withheld.
MarineParents.com, Inc. is an IRS-approved 501(c)(3) public charity and your donation is tax deductible as allowed by IRS tax law. Make your donation using our secure online interface and your credit card or debit card. We accept Mastercard, Visa, American Express and Discover.
---
Make Your Donation
Support Ryan and Kelsey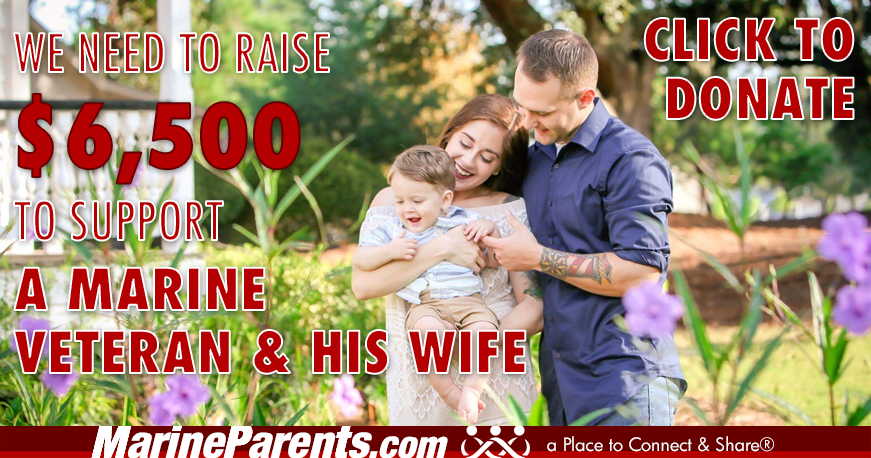 Ryan, a Marine veteran currently on Individual Ready Reserve (IRR), served as a Correctional Specialist from November 2013 to November 2017 most recently out of Charleston, South Carolina.
Ryan's current employer has informed him that his job will be there for him when he wants to go back, but he's only been there for three months and has no sick time or vacation time to use. So for the time being the family will have no income.
We would like to help ease the financial burden during this difficult time, so that Ryan can focus his energy on his wife and toddler. We are going to pay his monthly bills directly to the providers as well as help with daily expenses including hotel, gas, and food expenses. We're setting a fundraising goal of $6,500 to help provide financial support through the end of February.
We know that with your generosity and commitment to the well-being of the service members that sacrifice so much on our behalf, we can reach our $6,500 goal.
As of 10:00AM CST 1/14/19, we have raised $7,090 and surpassed our $6,500 goal.